In 1963, Robert Granderath, developed the
first fully-automatic
rigid-slatted GRANDO pool cover.
Whether Indoor/Outdoor, Commercial/Residential
Grando pool covers are the best of the best...

· Rank highest for CHILD SAFETY in Europe

20x40 cover can hold approx 2,000 lbs!

· NO FENCING NECESSARY depending on Building Departments

· NO TRACKS!!

· FULLY AUTOMATIC

· These covers are ENERGY EFFICIENT
Cutting costs up to;
80% for heating expenses,
30-50% for chemicals that are also harmful to skin
50-70% energy costs of dehumidifying indoor pool areas.

· ENVIRONMENTALLY SAFE!

· SOLAR panels available

· NEAT, CLEAN, IMPRESSIVE LOOK

· GRANDO pool-covers PAY FOR THEMSELVES.

Whether you are building a new or existing pool
we can accommodate ANY SHAPE AND SIZE.

Negative Edge Pools - NO PROBLEM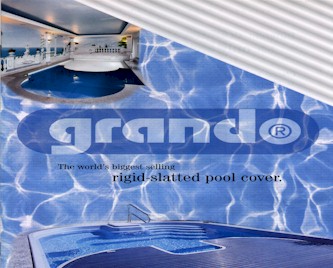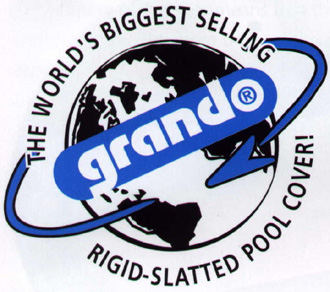 Considerable reduction of maintenance cost
•Energy saving
up
to 80%
Non-heated outdoor pool owners with our solar version extend their swimming season
Heated outdoor pool owners save additional money on heating, chemicals and cleaning
Indoor pool owners save because with less evaporation, the AC or dehumidifier does not run as much, and less humidity means more protection for your building.
ALL THIS BECAUSE

Our cover is right on the surface of the water.
•NO Tracks
•NO Mechanical parts near the water
•NO High voltage near the water